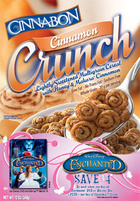 First off, I'm not usually a corporate shill for the mouse (well, if you ignore all those DVD reviews). But I love me some Cinnabon and I thought Enchanted was particuarly delicious too. So, if you're like me, here is a chance to put those two things together and save a little money. Right now until May 31, 2008 you can save $4.00 by mail when you purchase an Enchanted DVD or Blue-ray disk plus one box of Cinnabon Crunch Cereal.
From the press release:
Cinnabon Cereals are lightly sweetened multigrain cereals decadently inspired by the world's most famous cinnamon roll. Infused with Cinnabon's signature Makara® Cinnamon, Cinnabon Cereals are loaded with whole grains, are low in sodium, contain no trans-fats or cholesterol and are sweetened with unprocessed sugar, fruit juice and honey. The nutritious and wholesome ingredients in Cinnabon Cereals allow you to guiltlessly enjoy the legendary experience of Cinnabon every morning.

As you may already know, Enchanted is one of the newest movies from Disney that follows animated Princess Giselle on her adventures through modern-day New York City after she is sent to our world by an evil queen. Soon after her arrival, Princess Giselle begins to change her views on life and love after meeting a handsome lawyer.
To take advantage of this offer, you can visit your local supermarket and video vendors today soon you'll be enjoying the delicious crunch of Cinnabon Cereal and your newest favorite Disney film! Thanks to Disney and Cinnabon for this "enchanting" arrangement!