Sadly another Disney Legend and member of Walt Disney's great Imagineer generation has died.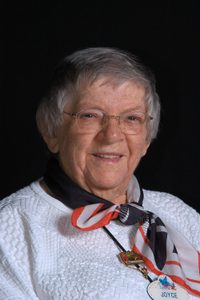 Joyce Carlson, Legendary Disney Imagineer, Designer, and Model Maker for more than 56 years, dies at age 84;
Model and Doll Designer for Classic it's a small world attractions
Joyce Carlson, a legendary Disney "Imagineer," artist and model-maker for 56 years, passed away January 2, 2008 at her home in Florida following a long battle with cancer. She was 84 years old. Joyce helped create the original model for it's a small world for the New York World's Fair in 1964, and later refitted it for its permanent home in Disneyland.
"What Joyce shared with everyone in the Model Shop was passion: passion for doing things right, passion for the Disney product, passion for pleasing Walt Disney. For Joyce Carlson, that meant continuing to join her fellow Imagineers at Walt Disney World once a week even after she officially 'retired' in 2000," said Marty Sklar, executive vice president and Imagineering Ambassador, Walt Disney Parks & Resorts.
Joyce was born in Racine, Wisconsin, on March 16, 1923, and moved with her family to Southern California in 1938. After graduating from Santa Monica High School, she followed a friend to Walt Disney Studios in Burbank in 1944, where she took a job in the traffic department delivering pens, pencils, paints and brushes to animators.
Six months later, she joined the Ink and Paint department, or the "nunnery" as it was called, since mostly women worked there. Within two weeks, she was working on short animated training films for the army. Because of her good eye and steady hand, Joyce worked as an inker for the next 16 years on such films as The Three Caballeros, Victory Through Air Power, Cinderella, Peter Pan, and Sleeping Beauty.
In 1960, when inkers were being replaced by the new Xerox electrostatic process, which transferred animators' pencil drawings to cels, Joyce parlayed her talents to Walt Disney Imagineering, formerly called WED, "Walter Elias Disney" Enterprises. There, she worked alongside two of her mentors, Disney Legends Mary Blair and Marc Davis, creating miniature prototypes of attractions for the 1964 World's Fair pavilions, and was among a small group of artists Walt Disney sent to New York to install it's a small world. Joyce not only worked on the original model for the attraction, but also worked as the artist behind many of the singing dolls on this classic Disney ride, soon to be open in every Disneyland theme park around the world.
Because of her extensive experience with it's a small world for Disneyland, she was a natural to later help bring the attraction to Walt Disney World and Tokyo Disneyland. With her later involvement with the Paris and Hong Kong rides, she touched every it's a small world attraction Disney created. After spending 10 months in Tokyo in 1982, Joyce returned to the States making Florida her new home. There, the show designer helped maintain many Walt Disney World attractions – and the Audio-Animatronics characters featured in them – including the Carousel of Progress and of course, it's a small world.
The first woman in The Walt Disney Company to reach both the 50- and 55-year service milestones, Carlson had no intentions of resting on her laurels and continued mentoring Imagineers' creative spirits and passing her knowledge and experience on to the next generation until early 2007.
Joyce was made a Disney Legend (an honor bestowed by the Company on individuals who have made major contributions over the years) in 2000, and was further honored with her own "window on Main Street" in the Magic Kingdom (at Walt Disney World). On a second floor shop window, looking down Main Street toward the Castle, the inscription on a window above the Emporium, reads "Dolls by Miss Joyce, Dollmaker for the World."
Joyce is survived by her sister Veryl Jones, from Tampa, two nieces, Kathy Kibby from Arizona and Nancy Dempsey of North Carolina, two great nephews, Scott Neal of Minnesota and Brian Young of Ohio, and one great niece, Amy Garman of Florida, as well as six great-great nieces and nephews.
There will be no memorial service as per her wishes, just a celebration/gathering in honor of her life. Contributions may be made in Joyce's name to the Hospice of the Comforter, 480 W. Central Parkway, Altamonte Springs, FL 32714 or 407-682-0808.