Update: Death likely caused by heart attack suffered while on the attraction. (12/19)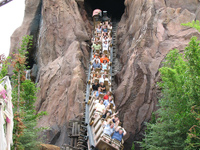 A man died after riding the Expedition Everest Roller Coaster at Disney's Animal Kingdom theme park this morning. Guests and theme park staff tried to revive the man, but
The man had no pulse when paramedics arrived, Jones said. There was no apparent trauma and "no obvious signs of any cause," Jones said. The paramedics transported him to Celebration Hospital where he was pronounced dead.
Expedition Everest is not a particularly fast or rough roller coaster. However, it does feature an 80 foot drop, an unexpected section where you go backward, and a few sections of tight g-force inspiring helixes.
Via the USA Today coverage we learn that
Deputies said Reed appeared to be conscious 50 seconds before the ride ended, because his photograph was taken at one point.
Unfortunately the photo is taken before the big drop and before the most punishing of the g-force helixes. I've embedded a video of a complete ride through below the cut.
This is the first reported death related the Expedition Everest attraction. The attraction is currently closed for inspection. What's not known is the presence of any pre-existing condition that might have contributed to the sad death of this guest. That will come at the autopsy.
Our condolences to the man's family. This is not how any vacation should end. (Link)
Photo courtesy of JR-Popfan via Flickr Creative Commons License