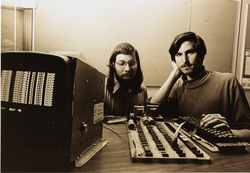 What does sitting on the Board of Directors for the Walt Disney Company get you these days? How about a figure of yourself in a famous Disney attraction? Distant Creations blog is reporting that Apple computer co-creator Steve Jobs will appear in a scene in the recently renovated SpaceShip Earth attraction at Epcot depicting the creation of the first Apple computer in their garage.
Spaceship Earth is getting a new storyline that concentrates more on the history of technology, instead of communication, to better fit the products of the attractions new sponsor Siemens. It's unclear if Jobs (above on right) and Wozniak (above on left) will be identified by name in the new narration (provided by Dame Judi Dench), but the scene appears to clearly be one of the two innovators, most likely Jobs.
Although the attraction has had its official re-opening delayed until February, I have heard rumors that we could see a soft opening as soon as next week (we checked today, but the walls were still up in front of the queue). The attraction will also feature interactive screens where guests can choose their own ending for the attraction, effectively making the future on their own.
Steve Jobs helped bring Pixar to Disney, it's the least they can do to honor his achievements with personal computers. (Link)
Update: Thanks to Ricky for the clarification in the comments. It's just Jobs, not Jobs and Woz.