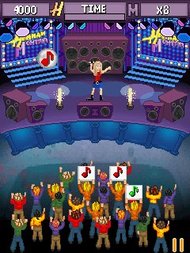 mDisney has launched Hannah Montana – In Action, the first mobile phone game based on the hit Disney Channel TV show "Hannah Montana," which stars tween star Miley Cyrus. The suite of mobile content already available includes ringtones and wallpapers. There is also a mobile game features singing, dancing, red carpet fun and fashion as well as promoting charity donations, patience and friendship.
"Beyond a number one TV show and a hit album, Hannah Montana is an inspiring role model whose real-life lessons resonate with all ages," said Trish Halamandaris, vice president marketing and carrier sales, mDisney. "In translating the brand to mobile content we have captured the spirit of the show in a compelling, interactive experience that represents the music, comedy and adventure of the pop sensation."
This is the part of the Walt Disney Company's expanding effort to break into the mobile content business. Those two MVNOs didn't work so well. Let's hope this is a winning strategy. Not having a tween myself (yet), I have to wonder who lets their tween age kid download stuff onto their mobile phone? Who lets their tween have a mobile phone of their own? What's the market for this?