Three exciting DVD releases from Disney this week.

On October 16th you can buy THE HOAX, a thrilling, unbelievable true story of the man who nearly pulled off the biggest media scam of the 20th century. Starring Richard Gere, Alfred Molina, Marcia Gay Harden and a stellar supporting cast, The Hoax is based on Clifford Irving's controversial autobiography by the same name.
Golden Globe® winner Richard Gere assumes the identity of Clifford Irving, a novelist-turned-literary-scam-artist who in the 1970s penned a bogus autobiography of reclusive playboy billionaire Howard Hughes.

Also available on October 16th is THE INVISIBLE, a supernatural action-thriller from the producers of the box office smash hit "The Sixth Sense." Director David S. Goyer's gripping thriller The Invisible stars Justin Chatwin as Nick Powell, a bright and sensitive high school student with precious few hours to solve his very own murder. In order to escape a haunting world between life and death, Nick solicits the help of the only other person who can see him, classmate Annie Newton.
In a tragic case of mistaken identity, Nick is brutally attacked and his body is left for dead. Now in limbo, not quite dead but invisible to all but one of the living, his spirit can only watch as his mother, and the police search frantically for him, unaware that he is only hours away from truly perishing.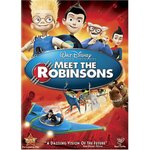 Then on October 23rd journey to the future and meet the wildest assortment of characters imaginable in Meet the Robinsons. This hilarious animated adventure for the whole family includes space age bonus features and games that will surely send you out of this world!
Join a brilliant young inventor named Lewis as he sets off on a time-traveling journey to find the family he never knew. In the fantastical world of 2037, hip-hoppin frogs and dogs that wear glasses are as common as talking dinosaurs. In an amazing twist, Lewis discovers that the fate of the future rests in his hands, but he can't save it alone, he'll need every bit of help he can get from the wonderfully wacky Robinson family, who help him learn to keep moving forward and never stop believing in himself.
Meet the Robinsons' space age DVD bonus features include deleted scenes, "Keep Moving Forward: Inventions that Shaped the World", Grammy Award winner Rob Thomas's "Little Wonders" music video, "Kids of the Future" music video by the Jonas Brothers, "Family Function 5000: Family Tree Game", "Inventing the Robinsons" and director Stephen Anderson's audio commentary.