Page 14 of the July 2007 issue of J-14 magazine ran a short article where Miley Cyrus exposed her "gross habits." It's the same sort of story that has crowded the pages of every teenybopper magazine since the days of Dynamite. But when a scan of it started making the blog rounds, something very critical had been changed.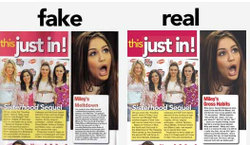 It was no longer a fan fluff piece, but now appeared as a confession piece announcing the pregnancy of the young star of Disney's Hannah Montana. That piece was totally fabricated and probably an attempt to attract some eye-balls to the posers website while capitalizing on Miley's recent appearance on ABC's 20/20.
It's doubly sad because as she and her dad talked about in the 20/20 interview, Miley is totally committed to her fans and her art. But she and her dad see no reason to keep up the punishing work schedule if it is no longer fun. Stuff like this is exactly what makes it unfun for stars. As a member of the Disney blogging community, I want to apologize to Miley for this sad hoax. I don't know who did it, but if I did, I wouldn't hesitate to turn them in.