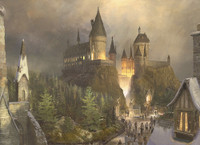 With Islands of Adventure preparing to build a whole new land dedicated to that wizard chap from across the pond, the question has come up what will Disney do in response? What will the affect be on the balance of power between the three major theme park players here in Orlando.
One of the things that Disney World does so well these days is to keep people 'on property'. With Magical Express from the airport, a decent bus service (although that needs improvement), and 3.75 full day parks (DAK is almost there) they have guests for five nights without having to worry about whether they want to go elsewhere. Throw in the typical 'day of rest' (water park, golf, etc) and Disney has the average guest for most of a week.
So, you either have to be staying for more than six nights or be committed ahead of time to visiting Universal Studios Florida (USF) or Islands of Adventure (IOA) to even include them in your travel plans. Disney's firmer grip is a main reason attendance at Universal's parks has been weaker than expected the last few years (although spending per guest is up).
One question is will Harry Potter cause more Disney destined guests to move into the IOA column. It probably will change the vacation patterns of some, most likely those who don't stay on Disney property anyway. I think Harry Potter is more likely to draw new guests to Orlando that otherwise wouldn't have made the trip. Those 100 million plus kids who've read the series and now desperately want a chance to live the story. They're going to want to visit IOA first, maybe spend two days there. On a five night vacation that only leaves 2-3 days for Disney.
But the funny thing is, that will be new business (for both resorts). Both resorts will really have to put on the shine to turn these guests into repeat visitors. That is why Disney needs something with a big fan following that is tangential to the Harry Potter craze. That is probably why Disney is courting George Lucas, trying to repair the bridges that were burnt in the Eisner administration. Star Wars/Indiana Jones is the perfect counter to Harry Potter.
Expanding the Star Wars/Indiana Jones offerings into a whole 'Lucasland' at Disney's Hollywood Studios would propel that park into direct competition with the Magic Kingdom for the must visit par for most families. The question is whether Disney will be able to get this 'answer' to Harry Potter launched in time. Disney, however, has said that they're not preparing an 'answer' for HP that they're confident the regular offerings will stand up to the competition. But remember the whole reason Disney-MGM Studios came into being was Eisner wanted to have a 'studio' park in Florida before Universal opened theirs. Disney has a history of having 'answers' ready when challenged. I don't think this time will be an exception.