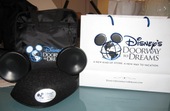 DisneyMania was invited to the DVC members preview of the new DVC preview center in the Chicago area Woodfield Mall. The "Disney Doorway to Dreams" store is essentially a big ad for the Disney Vacation Club. DisneyMania takes you inside, but unfortunately, perhaps due to restrictions, doesn't provide any pictures of the Animal Kingdom Lodge Villa room mockups. He did score some great loot though. My wife would love a pair of those Mickey Ears for her collection.
For those unfamiliar with Disney Vacation Club, DVC is The Walt Disney Company's take on vacation timeshares. You buy into a DVC resort, which becomes your home resort, for a one-time fee based on the number of points you want. Disney will help you finance that fee (although you might check with your credit union for a comparison loan). You then pay only yearly maintenance fees on your purchase. Your points go to making reservations at any of the Disney World properties (although obviously, it costs fewer points in the off season and if you stay at a DVC resort).
Unlike some timeshares your DVC membership will eventually expire. But there are also other benefits you don't get with a regular timeshare, and the points are portable to other locations (including some Disney owned properties). If you're a regular visitor to Walt Disney World and usually stay for 7 nights or longer at least three out of every four years at a moderate or deluxe resort then DVC membership might be for you.
If this interests you then I suggest you check out these DVC tips over on MouseSavers.