The Disney Hub blog has a fascinating look at changes in the Snow White and the Seven Dwarves walkaround characters over the years. They start with the 1955 Disneyland opening day character costumes and follows the changes up through present day. One thing to note that's not covered in the article, most of the costumes used at Disneyland for the open ceremonies were borrowed from the Ice Capades show. Disneyland did not have the time or facilities to make their own costumes.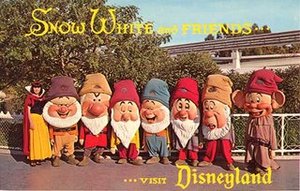 These days one of the big differences between Disneyland and Walt Disney World 'face characters' (walk around characters who perform without a mask – usually a princess) is the age of the actor. Disneyland is able to place a much younger person in the role on average. Orlando's greater needs requires a wider hiring range. Plus they're drawing from a smaller pool of actors, Southern California is a mecca for young actors looking for their big break.
Don't get me wrong, almost all the actors in both parks are marvelous in their roles. It's just that when you're looking for a 14-18 year old princess and a face showing a wisdom of many years more than that greets you instead, the effect just isn't the same. The kids don't necessarily notice, but I do.
The next big change appears to be articulate faces on the masked characters. They're already being used in some of the stage shows. Although there is a language hurdle to overcome (all kids expect to Mickey to address them in the same language that he speaks on their TV), I'm sure somebody somewhere is working on using them for the more personal meet and greets. (Link)