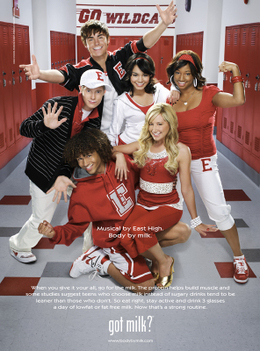 This talented cast of performers from the Disney Channel's High School Musical 2 are the latest celebrities to join the 'Body by Milk' campaign. The campaign encourages teens to stay healthy, being active and lean by eating right and drinking 3 glasses of lowfat or fat free milk everyday. The global stars join the ranks of Beyoncé Knowles, Carrie Underwood and David Beckham in the iconic campaign. The movie premieres on Disney Channel in August.
The ad copy reads, "Musical by East High. Body By Milk. When you give it your all, go for the milk. The protein helps build muscle and some studies suggest teens that chose milk instead of sugary beverages tend to be leaner than those who don't. So eat right, stay active and drink 3 glasses a day of lowfat or fat free milk. Now that's a strong routine." The ad debuts in the July issue of Twist Magazine.
Related: LaughingPlace.com's Kirby has posted his review of High School Musical, The Concert
DVD.