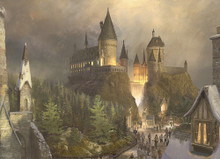 Confirming the slow and steady stream of rumors, Universal Studios announced that they had won the theme park licensing rights to the Harry Potter properties. In Florida, the land will be called "The Wizarding World of Harry Potter" and will be located in the Islands of Adventure theme park.

Universal plans a 20-acre "Wizarding World," a little bigger than the
average size of its themed "islands" at Islands of Adventure. Part would be
carved away from what is now "The Lost Continent" island, and the rest would
be land now used for employee parking and park support, outside the back
fence.

The new, "seventh island" would feature reconstructed and rethemed
attractions, and all-new ones, Scott Trowbridge, vice president of Universal's
Creative Studios, said in an interview. The Hogwarts castle and locations from
Rowling's Forbidden Forest and Hogsmeade village will be created as backdrops
to attractions, shops and restaurants.
This move is important to the prospects of Universal Studios which has been maintaining profitability, but losing audience members since 2004. "Wizarding World" should open sometime in 2009. (Link via Orlando Sentinel)