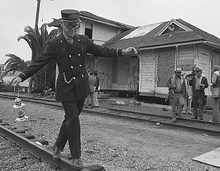 Ken Pellman wrote earlier about the end of the Ward Kimball Backyard Railroad – Grizzly Flats. I hadn't really thought about what would happen to that property. I'm sad to see it split up. But I'm glad to hear that much of it is going to a good home.
I didn't want the week to get started without linking to an excellent set of Ward Kimball posts over on Cartoon Brew. The CB folk have been on a string of great writing. I feel like I could link to them every day.
First they found a treasure trove of animation and cartoonist photos including the one of Ward Kimball above. Then there is a clip from an interview with Kimball from a 1978 broadcast of Tom Snyder's Tomorrow Show. There are some amazing shots of Grizzly Flats in there. To top it all off Amid digs up a clip from the 1954 broadcast of "You Bet Your Life" where Kimball appears with Groucho Marx. Finally, there is the tribute to Ward over on Myspace.