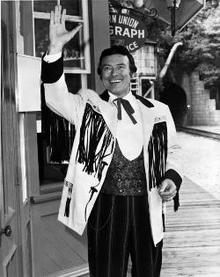 From 1962 to 1986 if you saw a performance of the Golden Horseshoe Revue at Disneyland then you probably laughed at the antics of Fulton Burley (wikipedia) and cried at his sweet irish Tenor. He also provided the voice of Michael, the Irish parrot, for the Enchanted Tiki Room attraction. Burley was honored as a "Disney Legend" in a special ceremony at the
Studio in 1995. He passed away on Monday May 7th at the age of 84.
Somewhere in my stack of stuff, I have photos of Burley, Wally Boag, and Betty Taylor performing at the Golden Horseshoe. The show was my favorite thing to do at Disneyland and we made sure to take in at least one performance on every visit. It remains one of the saddest chapters at the Disney parks to have the Horseshoe variety shows absent from both Disneyland and Disney World.
LaughingPlace.com has a longer tribute. Also see Jan's excellent page covering the history of the Golden Horseshoe Revue. (Image Courtesy Disney)