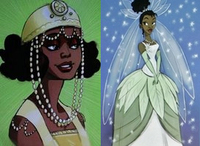 E!Online's Mark Malkin is reporting that Disney has chosen the voice for the lead character of Maddy in their upcoming animated feature "The Frog Princess" (wikipedia). Anika Noni Rose (wikipedia) will voice the part of Maddy, the title character and the first black princess to be featured in a Disney Animated film.
Rose, 34, recently costarred alongside Jennifer Hudson and Beyoncé in "Dreamgirls". She has a long Broadway career and a short film one (including the unfortunate "From Justin to Kelly" American Idol mashup). Others rumored to be considered for the role include Alicia Keys, Tyra Banks, and Jennifer Hudson.
"The Frog Princess" is set in New Orleans and is an 'American Fairytale' set in the 1920s. It marks Disney's first return to 'hand drawn' animation since "Home On The Range" (anyone remember that film?). It will be directed by Ron Clements and John Musker, who have made a number of very successful films for Disney. It will feature music from Disney and Pixar regular Randy Newman. Newman great up in New Orleans and will no doubt bring a love and passion to his role that will help make this picture something special.
Previously: Big News for Disney at Comic-Con,