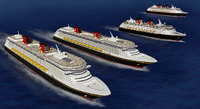 I thought they would hold off on making this announcement until the Pirates Of The Caribbean Three premiere in May, but today Walt Disney Company CEO Bob Iger announced that two more cruise ships have been ordered for the Disney Cruise Line fleet. These vessels will be roughly twice the size of the existing ships and hold 2,500 passengers each. If you look at the concept art released, you'll see that the new ship design is sleeker, more modern, closer to the monsters ships that Cruise lines are running today. Expected completion dates are 2011 and 2012.
When the original Disney Cruise ship was built, it had to be built in two separate locations then joined together in order to save time. The company Disney has contracted with for this built, Meyer Werft (website, wikipedia), possesses the world's largest covered dry dock. And, this is really cool for fans, the website has webcams so we can watch Disney's two new ships rise from the ground (well, with one new photo every week, at least. Maybe Disney can talk them into live video cams). If you look at the webcams now, you'll see that one ship is nearly completed now and another one already on the way. I wonder when construction will start on the Disney ships?
Another fun thing to do is to go sightseeing with Google Satellite Maps. The Meyer Werft facility is located at Papenberg, Germany. Once the center of activity for cruise ship construction, but now only Meyer Werft remains. The plant is located in a far upstream location on the river Ems. If you zoon out on that satellite image, you'll see the winding 20 mile course a finished ship must take to reach open sea.
With four ships, Disney should be able to station one ship permanently on the West Coast with trips to Alaska and the Mexican Riviera. This will likely be one of the new ships as it can be built to cold water specifications (thicker walls, insulated windows, more indoor activities, etc). The other new ship may be stationed in the Caribbean. But if the Mediterranean trips are successes, I wouldn't be surprised to see the other new ship stationed in Europe with Mediterranean and Scandinavian trips. This would help Disney in a market they probably don't have much penetration into right now.
Disney Cruise Lovers: What are your thoughts on this announcement? And any one have any good ideas for names?