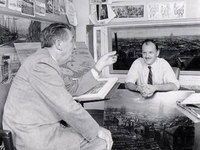 CartoonBrew is reporting that Peter Ellenshaw passed away yesterday in Santa Barbara. Ellenshaw was born in England and learned his trade as a matte artist from some of the best in the film industry. He then joined the British Royal Air Force during WWII as a pilot. After the war, Ellenshaw joined the Walt Disney Studios in the 1940s working on Treasure Island and, after moving to California, 20,000 Leagues Under the Sea.


He worked on over 34 films over 30 years for the Walt Disney Company and developed a huge following as a painter beyond his work in film. He also contributed to many attractions at Disneyland. His glow in the dark aerial painting of early Disneyland has always been a favorite of mine. You can see it at the Disneyland Hotel.
But Ellenshaw is perhaps best known for his work as a Matte Artist on Mary Poppins, for which he won an Academy Award. Not a scene was shot outdoors in that film, it was all the amazing talent of Ellenshaw that convinced viewers they were seeing the real thing. In 1993, Ellenshaw was made a Disney Legend.
My condolences to the Ellenshaw family. The world has lost another great one.