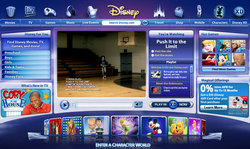 A little bird told me the new Disney.com site might be opening this morning. Looks like they were right. I haven't had any time to really explore, but it at first glance it looks good, if a little slow loading. Plenty of goodies to explore including a 'XD' interactive area (still in beta). The whole site appears to be redone in the new style.
Be warned, there are videos set to auto-play on nearly everypage (some of which are commercials and some of which are Disney promos). So the site is NSFW unless you have your volume turned off. Also be warned that you'll have to have Adobe Flash Player 9 installed for it to work (they'll prompt you to install if you don't have it).
There is definitely a lot more to see on every page. Check out this hastily assembled full page clip from the 'travel' section.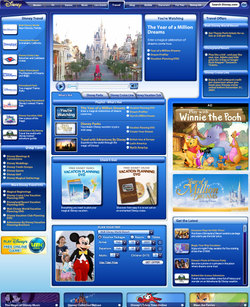 There is also a low-bandwidth option for those who don't like waiting for everything to download. Overall I'd say Disney Internet Group did a great job re-envisioning what had been a very stale brand. More later, but I'd love to read any comments you have about the new site below.