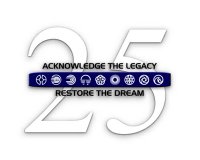 Jeff Pepper at the 2719 Hyperion blog joins the parade of websites who feel Epcot deserves a 25th Anniversary Celebration.
Since Disney has obviously decided to not acknowledge Epcot's 25th
anniversary in any truly significant way, it is up to us, the
passionate enthusiasts of Disney culture as represented by web sites,
online communities, podcasts, forums and blogs, to engage in a
celebration of our own making.
He even made that snappy logo you see up there. I'm all for blogs and fan websites getting together to celebrate Epcot's 25th. I still think there is time to get a celebration together at the actual park. But I guess I'm a dreamer when it comes to that.
Previously:
Epcot's VP is a party pooper
Danny Kaye's opening number for the Epcot debut show.