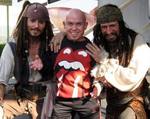 The stars are beginning to align for the very real possibility that the premiere for the third installment of Disney's popular Pirates Of The Caribbean movie series will be held at Disneyland on May 19th. I've now had two sources confirm that cast members are being told to prepare for the Pirates movie premier and the Disneyland official calendar now shows a special event happening on the 19th. That's similar to what happened for the premiere event last year.
That said, there is still no official announcement from Disneyland or the movie studio on the time and place for the premier of P3. So I would urge you not to spend your life savings to be at Disneyland for this, as yet, unconfirmed event. But I did promise I would post something as soon as I knew a bit more. So here it is. Get in line for red carpet photos and autographs with your favorite stars including Johnny Depp, Orlando Bloom, and Kiera Knightly. Let the Pirate dancing begin.
Also you might want to consider making hotel reservations for a room close to the park for that night. You can usually cancel those with little or no penalty with advanced notice (read your reservation agreement carefully).