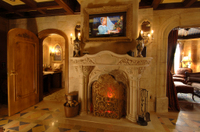 Rebekah from LaughingPlace.com got access to the Cinderella Castle Royal Suite today and posted some marvelous pictures that really reveal the detail Disney's Imagineers put into the design. I am so jealous.
There are all sorts of wonderful details in the room. Plenty of hidden, and not so hidden, references to Cinderella's story. I didn't see any Hidden Mickey's in the photographs. I wonder if there are any.
There is also some wonderful concept art that Mary Blair did for the film along with other Cinderella related artwork.
The picture above (provided by and copyright Disney) shows that they even included a 'cinder-pot' next to the fireplace. An allusion to the task which gave Cinderella her name.
In various Disney fan boards, it has been discussed that Disney could build a whole hotel full of suites like this and sell out every night with families that want to live out the fantasy of royalty. Sort of an Excalibur without the Casino and with a better pool area and a monorail stop… (well maybe we shouldn't get greedy).