Update: DLRP.fr has even more pictures from the same set. Looks like they were originally posted on WDWMagic.com.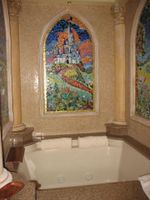 The ImaginEars blog has scored the first photos I've seen of the completed Cinderella Castle Royal Suite. Located in the former storage/cast member break room in the upper reaches of the castle, this room will not be available to book, instead it will only be awarded as a prize as part of the Year Of A Million Dreams promotion.
I'm definitely digging the bathroom tub with hand tiled mosaics on three sides. It is my understanding that guests will not be allowed to leave the suite after the park closes for the evening, but they will have a concierge who can help them obtain things if they need it.
Look for this award to be given out early every day so the winner can have time to retrieve their suitcases and such and still be feted in the parade of the day.
If anyone wins this thing, I'd really like to be invited along for a peek!
Previously here. (Also see the Year of a Million Dreams contest info here)