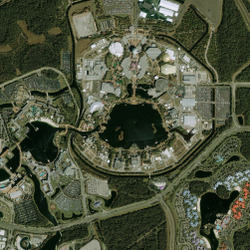 Part two of the beautiful Aesthetics of EPCOT series on the Passport to Dreams blog is up. As I read it I was nearly brought to tears by the beauty of the park and the ruin of so much of it by those who who have run it since the early 90s. Next week Walt Disney World will host a big media event. It is my hope that along with the other expected announcements (including: Midway Mania, the two Nemo attractions, Monster's Inc Laugh Floor (Oops), Cinderella's Suite, and more of the Year of A Million Dreams) that there will be an announcement of a huge celebration of EPCOT's 25th Anniversary which begins October 1st 2007.
Along with parades and/or shows, this celebration should include a look back at what EPCOT was to have been and a look forward at what EPCOT can become. It would be great to have a recreation of the opening day ceremonies including a huge TV special on ABC. EPCOT should be re-dedicated to its purpose of being and Experimental Prototype Community Of Tomorrow. FutureWorld should be slowly converted to meet or exceed modern green standards. Real research that will improve the lives of Americans and the world's citizens should be on display. World Showcase should be expanded again (there are two continents unrepresented) and peace should be on every doorstep.
When Jay Rasulo put his mind to do it, Disney basically threw together the Year Of A Million Dreams promotion in six months. They can do the same for their second strongest themepark brand EPCOT. Of course, I won't be holding my breath.
Update: EpcotCentral has added his take on Foxx's analysis of EPCOT and included his own call to action for the Disney Company.