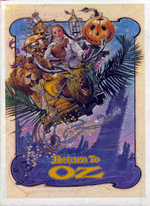 Today has been one of those weird coincidence days. I was just reading a post this morning about someone's childhood memories of a Disney film that featured the world of Oz. So I went to IMDB to do some research on it and found it was that movie from 1985 called 'Return to Oz' (wikipedia, amazon)and it featured Fairuza Balk as Dorothy. I always liked the film, but it never did very well at the box office. Of course, not everybody agrees with my assessment. MovieMistakes chronicles 44 errors in the film
I totally forgot that it was a Disney film. Disney didn't even open Disney-MGM Studios until 1989. Which wasn't helped by the fact that Disney didn't seek MGM's approval to use the Oz story for the movie.
Now tonight I'm just skimming some Disney photo blogs and guess what videblog posted today? The Return To Oz float from the 1985 version of Disneyland's Main Street Electrical Parade.