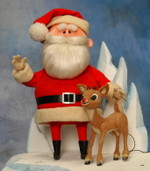 Santa and Rudolph, the puppets from the Rankin — Bass TV special that is, were found abandoned in an attic a few years ago and through a series of strange events (including a trip to the PBS series 'Antiques Roadshow') found their way to a puppet restoration specialist. They're now on display in NYC and drawing huge crowds, as well they should.
It's not Disney, but it's like a piece of my childhood has been saved. Plus it's nice to have some good news this holiday season. (Read)
Update: Lots more at TimeandSpaceToys.com, Screen Novelties, and Rankin-Bass History Blog.