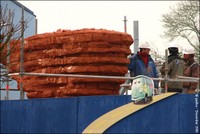 Once again Gadisa has expertly captured the magic of a visit to Disneyland Paris on her blog. Using YouTube her Video Trip Report sets the standard for Disney trip reports. The writing is in Dutch, but her feel for the magic of Disney is universal.
The night before the trip Disneyland Paris endured a huge wind storm. So some of the decorations aren't up, but it 's amazing how beautiful the park is anyway. The new fiber optic effect on the castle is entrancing.

Photo of new Cars attraction under construction is courtesy Gadisa.