The first two official press photos for Pirates Of The Caribbean: At World's End, the third film in the series/trilogy, have been been released. Oddly, one of the main characters is missing from both photos. Who could that be? Check out the pics below the cut.
Picture one includes the newest star to grace the Pirates seas, Chow Yun-Fat. Yun-Fat will play Captain Sao Feng. They appear to be on a boat somewhere? The Black Pearl resurrected?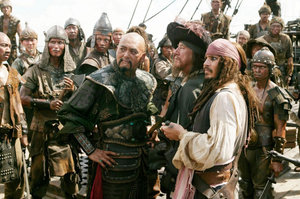 Picture two shows three of the main stars walking on a beach. I dig that outfit Kiera Knightly is sporting as Elizabeth Swann. I think I'll be making this my new desktop image.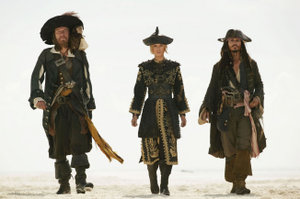 So I'm dying to know why Orlando Bloom as Will Turner is missing from these pics? He's the character whose story arc is most closely identified with the audience. You'd think he'd be in the promotional shots. Maybe they're trying to tell us something.
There was also this interesting note sent to me:
Please note, there have been several doctored photos of Johnny Depp in a blue & gold Asian costume that have surfaced on the internet over the past month. All of these images are user-generated fakes that are not in the movie and not approved by Johnny Depp.

You hear that? Now stop toying with our emotions people.