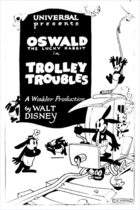 Watch out Mickey, Disney Consumer Products is in the final stages of planning the return of Oswald The Lucky Rabbit to a place of honor in the Disney pantheon of animated characters. You may remember the Al Michael's trade last year, where a football announcer was sent to Universal for the rights to one of Walt Disney's original animated creations. Well now Disney is about to reap some benefits from that trade with a line of Oswald clothing and products, as well as a DVD release of his films.
Cartoonbrew had a source send some pictures and video from the launch party which featured a live performance by the Wu-Tang Clan's RZA, who mixed classic Oswald cartoons with contemporary music. Those Disney folk go all out, don't they?
The only question now is, how long before we see a Walk-Around Oswald in the parks? Maybe Oswald The Lucky Rabbit – The Musical (can a silent cartoon be made into a musical? Someone ask Thomas Schumacher).