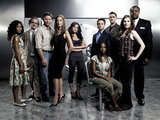 Experiencing its best fall start since 1993, ABC has clinched first place in the 18-49 ratings race for the fourth straight week. That's a valuable demographic for advertisers. "Greys", "Housewives," and "Lost" continue strong from last season, while "Ugly Betty" is Disney's breakout hit this year.
Is anyone still watching "Six Degrees" or "The Nine"? I gave up on "Six" after one viewing, but I'm looking forward to episode three of "The Nine" tonight. The brother and sister team of Hank and K.J. Steinberg have come up with an intriguing idea that we all can related to. Plus there are flashbacks and mysteries similar to "Lost", but grounded in a closer reality than the sci-fi island setting.
If you've watched one or two episodes of "The Nine" or just want to catch up with the show, you can view both episodes for free at ABC.com and you can find the show's official podcast there as well. So far I haven't found any fan podcasts, but if the show continues to get better, I think that's just a matter of time.