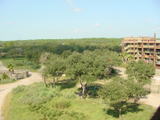 The Disney
Vacation Club is the time-share arm of the Walt Disney World Resort. It operates a little differently than your average Timeshare. It also accounts for the largest growth in rooms at WDW, Pop Century was the last non-DVC hotel built, Disney has since added Wilderness Lodge DVC, Beach Club DVC, & Sarasota Springs DVC. In fact, there is no plans on the horizon to even expand a current regular hotel, let alone build a new one. But Disney has just announced a new DVC location, and rumors of another DVC location have also been looming.
The newest Disney Vacation Club will be Disney's Animal
Kingdom Villas as part of Disney's Animal Kingdom Lodge. The first
phase, set to open in the fall of 2007, will include 134 remodeled rooms on
the fifth and sixth floors of the existing the resort. Later phases will
include construction of 324 new vacation rooms. An expanded animal
savannah, a new table-service restaurant, a themed pool and water play
island, a merchandise shop, and sports-and-recreation facilities are
also part of the project. It is scheduled to be completed in April 2009.
The fact that they're immediately remodeling 134 existing rooms makes me wonder about the current occupation levels at AKL. Do they have capacity to spare? Those rooms on the 5th and 6th floors were also the concierge rooms. Is concierge going away at AKL? So there are some questions that are yet to be answered here. But overall, I think this is a great location and will provide DVC members a place to get away from the hustle and bustle of a full-speed Disney vacation. Waking up and looking out over the savannah to see Giraffe, Zebra, Watusi Cattle, and more is the perfect way to start your day.
(see also this Orlando Sentinel Story)