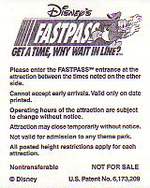 Every so often, usually before the busy summer season – not after, newspapers run a string of these Family Travel Planning articles for Walt Disney World. I guess it let's reporters write-off some of the cost of the vacation. (Not a bad idea now that I think of it.) Inevitably there are a few small errors that could lead to the fun not being maximized.
In this article the author suggests that fastpasses are a good idea but that you have to return in the 1-hour window the ticket provides. However, the one-hour return window is only a suggestion. Notice how the rules on the back of the pass say 'please' instead of 'do'. Cast Members will honor your fastpass later in the day.
One more secret about Fastpasses is that sometimes you'll encounter a machine that gives out double tickets or a machine that isn't part of the whole fastpass network (only at Disneyland right now). So read the fastpass carefully for the time your next pass will be available. If there isn't one, chances are you can go get a Fastpass at another attraction right away.
So as long as Fastpasses remain free at Disney Theme Parks it's a good idea to use them and maximize your time in the parks.