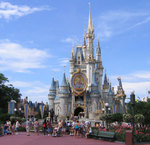 All the ornate fillagree that has been added to Cinderella Castle at Walt Disney World's Magic Kingdom is coming down. On Sunday I snapped a few photos of the castle partially undone. The decorations were up for the 50th Anniversary Celebration of Disney's themeparks. That ends this month.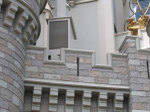 Alas, some of the decorations have done some damage to the castle in their removal. I'm sure this can be repaired, but damage like this is all over the castle. It's my understanding that the castle will get some much needed care and repair and that no new decorations will go up for the next promotion – The Year of a Million Dreams – which begins in October sometime.
The chief element of the new promotion will be random situational give aways of various products and experiences for guests in and around the parks and resorts. Disney will be utilizing a system that randomly selects a time and location for a certain giveaway and then directs Cast Members to that very specific location (such as table 12 at Plaza Inn or the family getting off Spaceship Earth). More as details are released and prize awarding commences.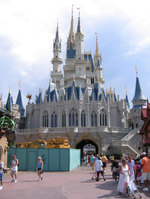 Finally, in the back of the castle part of the courtyard is closed off and a crane is partially hidden behind some temporary walls. It's an eyesore, but apparently too much work time is lost moving the crane into position every night to store it backstage. It will probably be gone by this weekend.
Any thoughts on the new promotion? Think it will draw in the crowds?