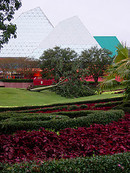 Since Hurricane Tropical Storm Tropical Depression Ernesto turned out to be such a wimp (and boy am I happy about that) Hurty Elbow decided to post a trip report and let us relive his 2004 vacation when Hurricane Charley came a knocking.
As you can see by the photos, mostly trees were harmed in the making of this post. Central Florida is still not 100% recovered from Charley more than two years later. While almost all the blue tarps are gone, some businesses are still shuttered, some families have moved away, and hurricane insurance prices are going through the roof.
I'm definitely counting my blessings right now.