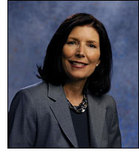 Meg Gilbert Crofton, a 27-year Disney veteran, was just announced as the new President of Walt Disney World. This position remained unfilled since Al Weiss was promoted to lead Global Operations for all Disney Parks and Resorts.
"Thanks to Meg's leadership, we've made great strides in creating a world-class HR organization that is focused on providing the best experience and work environment for our Cast around the world, as well as furthering the business objectives of our segment," said Rasulo, who added that Crofton's replacement would be named shortly.
"I am extremely excited about the opportunity to lead the Walt Disney World Resort," said Crofton. "Central Florida is my home and it's where I spent the majority of my career – and it has always held a very special place in my heart.
Crofton has held executive leadership roles in worldwide Human Resources, Operations and Sales. But she is not the first to rise from Human Resources, Dick Nunis got his start developing the very first Cast Member training program for Disneyland in 1954.
Recently Crofton was added to a select executive advisory committee to aid Jay Rasulo in his role of Chairman of Walt Disney Worldwide Parks and Resorts. Other memembers of the board, and potential candidates for Crofton's position, included Nick Franklin, who had been senior vice president of international development; parks Chief Financial Officer Jim Hunt, and Michael Mendenhall, executive vice president of public affairs.
It's nice to see Disney promoting from within its ranks of long term employees. Best of luck to Meg Crofton as she enters a position that has been curtailed in power by the promotion of Al Weiss and the creation of the committee she served on.