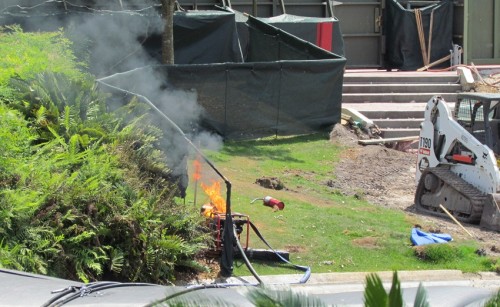 I had a few free moments this afternoon and my son and I decided to visit the Magic Kingdom to sneak in a few rides and see Seven Dwarfs Mine Train with all the walls finally removed. More on that later this weekend. As we were headed out of Tomorrowland toward the hub, just about 3pm, we saw a small puff of smoke and then fire quickly growing around a generator / water pump near the edge of the Magic Kingdom Plaza Improvement project construction zone (read my recent update of that construction).
In a few moments, it had burnt through most of the fencing directly adjacent to it and looked to be threatening the fern bushes between it and Tomorrowland Terrace. Guests were dining just a few feet away in the restaurant, but quickly took notice of the flames, some moving away, some coming over for a closer look.
I felt that on the Tomorrowland Bridge, I was a safe distance away. I took out my camera and my mobile phone to get some video. It's hard to film both at the same time and upload to Instagram, so I handed the camera off to a poorly trained monkey nearby. The first part of the video is the footage I could save from his unfocused attempts at documenting the incident.
From when we arrived to when the fire was extinguished took almost exactly 5 minutes.
As it turns out, there was one worker in the construction zone. After standing a few paces away and thinking about the best course of action, he left the scene, traveled under the bridge to the other side of main street, then returned with a bucket full of water. Which did almost nothing to put out the flames. Luckily there was a closer source of water, so he took a few steps down the bank and refilled the bucket then dumped it on the flames again, still with little impact on the fire itself. But I think he did prevent it from spreading any further.