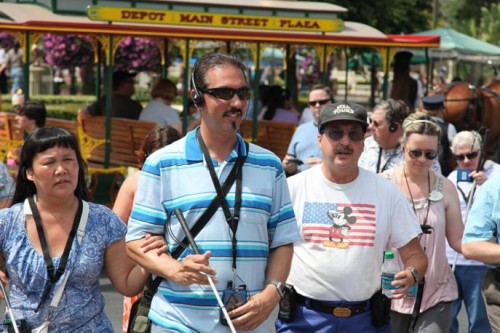 As if on cue, Disneyland just announced the addition of audio-descriptive service for outdoor areas for those with visual disabilities. Earlier this week a class action lawsuit was certified against Disney parks for not accommodating those with visual disabilities. Disneyland and Walt Disney World has had this device for over a year now, but now it's even more useful. I like the device it's very rugged and quite an amazing experience, even for those who don't have visual problems.
Disneyland Resort guests with visual disabilities can now explore Disneyland in a new way through this Disney-designed device that provides detailed audio description of outdoor areas.  An interactive audio menu allows guests to choose the type of information they would like to receive about outdoor areas—from a description of their surroundings to information about nearby attractions, restaurants and entertainment. The new outdoor service is an enhancement to the audio description that debuted over a year ago, which provides guests detailed audio description of key visual elements for more than 20 attractions at Disneyland and California Adventure.
A good PR move from Disney, but a bit obvious.
Update: The full press release is below the jump:
Read More »Disneyland announces addition of Audio-Descriptive device in Outdoors area