$200,000 plus and growing. Talk about a green event!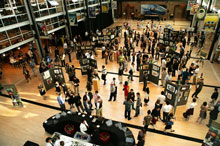 On Sept, 6, an art auction was held at Pixar Animation Studios in Emeryville with proceeds benefiting the Sayama Forest, an 8,750-acre patch of Mother Earth in all her glory just outside Tokyo. This area served as the inspiration for master animator Hayao Miyazaki's film "My Neighbor Totoro."
More than 180 artists — including some top illustrators in comics and children's literature as well as others working at Pixar, Blue Sky, Disney, DreamWorks, LucasFilm and Sony Pictures Animation — contributed 205 pieces. The auction raised both awareness and much-appreciated cash for Miyazaki's Totoro no Furusato Fund, the Japanese organization leading the efforts to protect the Sayama Forest from urban encroachment.
After arriving at Pixar and checking in, I headed into the giant atrium lobby with a few friends to take our first look at the art in person. Pictures of the art had been posted online for more than a month before the auction, but many pieces were even more spectacular in person. I found only one that I thought photographed better than it looked close up.
There was something here for every taste. You couldn't see the overall collection and not fall in love with a half-dozen or more pieces.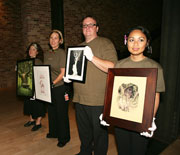 The art was well organized with A, B, C, D and E boards, each closing at different times. Volunteers (and many of the contributing artists) stood nearby to assist bidders and answer questions. It was a good chance for an animation geek to chat with Andreas Deja of Disney, as well as Pixarians Jim Capobianco, Bill Presing, Mark Andrews, Jeff Pidgeon, Lou Romano, Peter Sohn, Bill Cone, Emma Coats, Pete Docter, John Lasseter and so many others.
I also got to meet a late-arriving Nate Wragg, just back from his honeymoon, and creator of one of my top five picks from the show. Unfortunately, this young Pixarian's piece went for more than my budget would allow — but I didn't feel too bad knowing where the money was heading.
After 30-minutes or so of milling about, looking and placing bids on the silent auction items, Lasseter took the stage to welcome some 500-plus guests. He recounted meeting Miyazaki nearly 30 years ago in the U.S. and later laying the foundation for a friendship when he visited the celebrated Japanese director at Studio Ghibli in 1987, when Miyazaki was working on "My Neighbor Totoro." Lasseter and his associates have worked to translate several of Studio Ghibli's films for English-speaking audiences, although "My Neighbor Totoro" is not among them.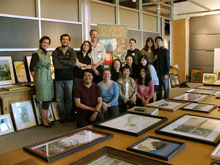 "I still remember walking through the background department and seeing the gorgeous images of forests and trees being painted there. I had no idea what the movie was about, but when Miyazaki-san showed me a cel of the catbus, I was blown away," Lasseter said.
On a visit to Studio Ghibli just a few years ago, Lasseter talked about Miyazaki driving him to a nearby park to take a stroll. "I don't speak Japanese and he doesn't speak English, but we didn't need to talk. Looking at him as we walked it was clear to see how inspired, how restored he was by being out in nature, especially in a place like Tokyo where there are so many people living and working so closely together."
Lasseter spoke with pride about how the fundraising project was artist-initiated, artist-led and artist-supported and how it united the community from across the globe.
"As someone who's learned from and been inspired by Miyazaki-san," Lasseter said, "I'm honored to help support the Totoro Forest Project" and to have Pixar Animation Studios host the auction.
Lasseter then introduced Dice Tsutsumi, Ronnie del Carmen, Enrico Casarosa and Yukino Pang, the organizers who've spent hundreds of hours planning and preparing for the auction.
Tsutsumi said the seed of an idea to do a charity art auction hit fertile ground when he shared it with Casarosa and del Carmen. Artists frequently donate pieces to charitable efforts they support and Casarosa organized a smaller fundraising auction about a year ago for an organization that builds hospitals in war-torn and poverty-stricken areas. Those earlier successes gave them the energy to tackle something bigger, something that continued to grow at every stage, something that could have overwhelmed them.
So many artists have been inspired by Miyazaki's films that they wanted to be a part of this very special auction. Tsutsumi thanked everyone for making the evening a success, from his fellow organizers and the contributing artists to the volunteers and auction attendees.
People then enjoyed a bit to eat and drink as silent auction bidding continued. Everything about the evening was fantastic and that certainly included the food. Those who purchased the $100 package got more than their money's worth in the delicious spread and exquisite $40 auction catalogue.
Bidding continued with some boards closing before the live auction kicked off around 8:15 p.m. A handful of pieces had been preselected for the fun and lively live auction and a half-dozen or so wildcards from the boards were thrown into the mix.
Casarosa told me that many artists not only contribute their own works to these charity events, but that they also like to buy pieces from others they admire. That was true for the Totoro Forest Project auction, but maybe just a little less so. I know several people — not gifted with artistic talent but who recognize and admire it in others — who were able to take home a piece, or two, or three.
Lasseter purchased a handful of the live-auction items, including pieces from Tsutsumi, del Carmen and Casarosa that he plans to reframe together after the showing at San Francisco's Cartoon Art Museum. Bob Peterson also made several purchases — a few during the live auction and others from the silent auction boards. A handful of items sold for a couple hundred dollars and a few went for $3,000 to $4,000-plus.
The proceedings were entertaining with a few good quips by the auctioneer — "The more you pay, the more you'll love it" — the typical bidding war or two, a couple of quick saves and dozens of paddles up at the opening bid price for several items.
The auctioneer called it the finest grouping of art he's ever seen sold in a single night. The evening was a smashing success, far exceeding the expectations of its key organizers. As Tsutsumi wrote on the blog at TotoroForestProject.org: "What a memorable night it was. I don't even know how to begin. We sold all 205 pieces of artwork donated for this project. We made over $200,000, which actually was twice as much as we were shooting for. The energy was insane. A full spirit of human generosity. People were really excited. People were really happy."
More than 180 items from the auction will be put on display at the Cartoon Art Museum in San Francisco beginning Sept. 20. To see pictures of the art or learn more, visit www.totoroforestproject.org . A limited number of the auction catalogues will also soon be available for purchase from the site.
Here are two photos of the Totoro Forest will be significantly helped by this great event.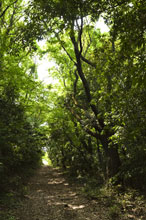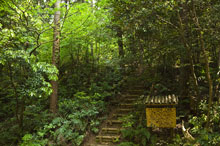 More photos of the event and additional credit is below the cut:
Read More »Totoro Forest Project Auction Recap