When Disneyland's Matterhorn Bobsleds opened in 1959 it was the first ever tubular steel coaster and a real innovation in…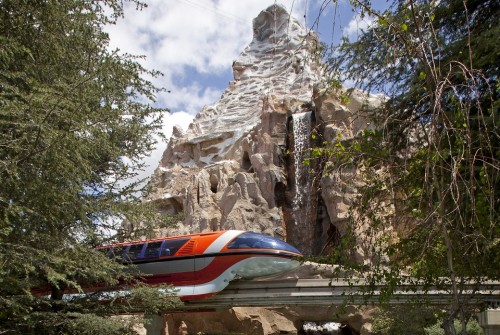 The Matterhorn Bobsleds at Disneyland has always been a sentimental favorite of mine; in part because my Grandfather Vic Greene was the Art Director for the attraction and for his involvement in the story of how Imagineering got the instructions to build it.
There was a little hill of land in between Tomorrowland and Fantasyland that the Skyway used to get some height to go over the back of Sleeping Beauty Castle. Walt wanted to do something with this land, but he didn't know what, he asked my grandfather to start thinking of an attraction for the hill. The story as told in the book "How to Be Like Walt: Capturing the Disney Magic Every Day of Your Life" and in my family went like this:
Walt was traveling to Switzerland to film "Third Man on the Mountain" and fell in love with the Matterhorn. In a moment of inspiration, he grabbed a postcard of the mountain from a souvenir stand and sent it back to Vic Greene with the message, "Vic. Build This. Walt" on the back. Vic, of course, immediately set to work on designing what was to become a first of its kind landmark attraction.
Another fun family story is the invention of the Matterhorn's first of its kind switchback queue. Vic Greene and his team of Imagineers developed a system that would have the entrance to the switchback part of the queue be lower than the exit. When you stood at the entrance, the exit would appear closer to you in an optical illusion. The idea was to make your wait seem less cumbersome by visually shortening the queue.
A version of this story was documented in "Disneyland: Inside Story" by Randy Bright, and it has been told in my family for years. Before the attraction was set to officially open, testing was done using sandbags. When Walt wanted to see a real human on the ride, Vic Greene was selected as the first human to test ride in a bobsled on a steel tube coaster. Since water hadn't been added to the splash down pools at the end of the ride, Imagineering had set up bales of hay to slow the cars down. Unfortunately the bobsled car hit the hay and stopped so suddenly, Vic nearly got whiplash. Still he survived and the ride was deemed complete.
Below the jump are a few more fun facts from the 55 year history of The Matterhorn.
IAAPA is having is European Attractions Show this week and their "In the Queue" blog covers a session led by…