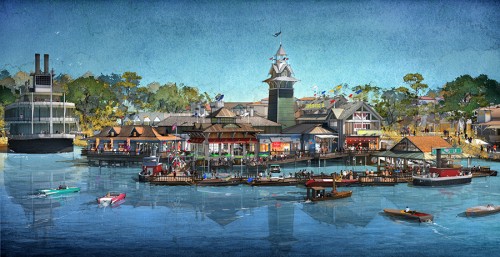 We've been chronicling the coming of Disney Springs since before its official announcement in March of 2013. By changing to the Disney Springs concept, Disney is expanding shopping, dining, and entertainment options at the Downtown Disney location with the goal of keeping more guests on property during their entire vacation and not shuttling off to local malls or other theme parks.
The first area of Disney Springs to open will be The Landing, which is a water front area approximately where Pleasure Island was before. The largest building in the area is what will become The Boathouse – a new concept restaurant from the team at Schussler Creative. Previous concepts from them at Walt Disney World include: Rainforest Cafe, T-REX Cafe, and Yak & Yeti. Opening Spring 2015 The Boathouse will be an upscale, waterfront dining experience featuring spectacular floating artwork: dream boats from the 30's, 40's & 50's.
The Boathouse restaurant will immerse guests both on land and on water with live music. Among many special dining opportunities, there will be a romantic Captain's guided tours aboard The Venezia, a beautifully crafted 40-foot wooden Italian Water Taxi featuring champagne toasts and chocolate-covered strawberries. There also will be the exhilaration of guided Amphicar rides that launch from land, entering the water with a splash, taking guests on a 20-minute tour of the landmarks of Disney Springs.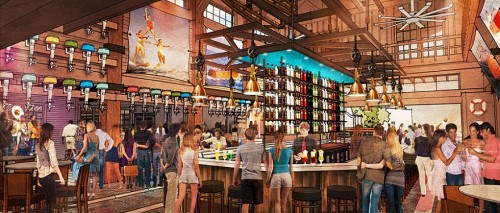 To add to the atmosphere, the Harbor Master will orchestrate daily flag ceremonies, accompanied by a lively musical performance of beloved bugle songs, performed aboard a classic 1800's antique steam boat. Authentic nautical items, custom engraved paddles, distinctive lake-themed merchandise, and other unique items "Made on Earth" will be available at The Ship's Store, adjacent to The Boathouse restaurant.Read More »The Boathouse, from the creators of T-Rex and Rainforest Cafe, is coming to Disney Springs