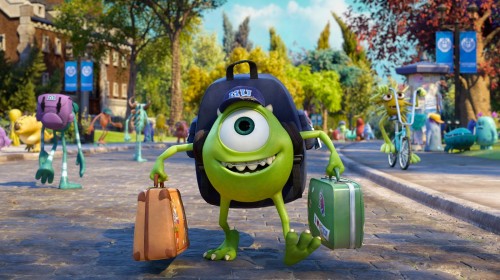 Prior to Monsters University most audiences will be lucky enough to see the newest short from Pixar – The Blue Umbrella. It's the least Pixar short of the series in terms of its photo-realistic design, but also somehow completely Pixar too. I don't want to give anything away, but there is a definite connection between the world of the Umbrellas and Monstropolis.
It's been 12 years since Monsters, Inc first made audiences fall in love with a short one-eyed monster and his giant fluffy blue friend. The kids that saw that film in theaters then have since grown up and are ready to introduce another generation of kids to the world of Monstropolis. But rather than making a sequel, Pixar decided to set the next film in the past.
"One of the challenges with a prequel is that by definition, everyone knows how the story ends. So it can be difficult to uncover the drama because we already know everything's going to work out. It's hard to define those stakes. You have to learn something new about the characters—which we ultimately do in 'MU.'," said director Dan Scanlon.