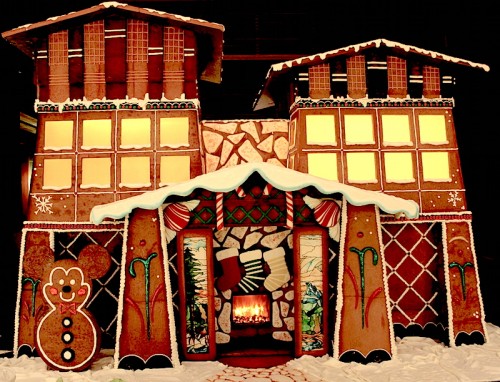 The gingerbread house at Disney's Grand Floridian is a well-known tradition at Walt Disney World, but did you know that the Disneyland Resort has some edible architecture of its own?
If you visit the lobby of Disney's Grand Californian Hotel & Spa you will not only experience a fireplace that you can sit in and a beautiful tree (not in fireplace), but a huge gingerbread house that sure looks a lot like a gingerbread hotel (and spa).
My family visited the Disneyland Resort as their guests for a #DisneyHoliday preview party and we were lucky enough to wind up in the lobby of the Grand Californian just as the pastry chefs were putting the finishing touches on their masterpiece. Then we put the finishing touches on a glass of port and went to bed, because holidays!
I really wish I had thought to record the process, but I didn't, so you'll have to settle for still photos like they did in the old days. Here is the final product and a few photos of the beautiful hotel lobby of the Grand Californian:
Read More »Disney's Grand Californian Hotel & Spa in Holiday Gingerbread