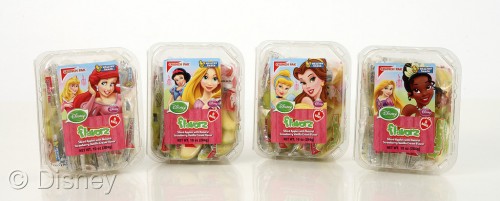 I remember when Disney first decorated apples at the local grocery store with a Snow White sticker. What marvelous cross-marketing, I thought. Although perhaps with a mixed message since Snow's apple was poisoned by the Wicked Queen. That aside, Disney has spent the last few years growing its support of healthy snacks for kids and the latest selections are about to be highlighted at the Produce Marketing Association's convention.
Kid-friendly and parent approved, Disney Consumer Products (DCP booth #783)will showcase its newest selection of "better for you" produce, lunch items, and snacks at the Produce Marketing Association's (PMA) Fresh Summit Convention & Expo on October 18 – 20 in New Orleans, LA. Sales of Disney-branded fruits and vegetables have tripled over the last two years, and more than 3.1 billion servings of Disney-themed fruits and vegetables have been served in the U.S. since 2006. Grocery retailers have expanded distribution of Disney-branded produce, and licensees continue to introduce new products featuring beloved characters from Mickey Mouse and Disney Princess to Monsters University and Marvel Super Heroes.
"Disney's growth in the produce arena is a great sign that kids and parents are receiving the message and incorporating more fruits and vegetables into their daily meals," said John T. King, director of licensing, consumables, Disney Consumer Products. "We continue to innovate, delivering flavors that appeal to kids and offering an ever-expanding assortment of fruits and vegetables featuring the Disney characters kids know and love."
Through innovative marketing campaigns and in-store experiences, families have been encouraged to choose more nutritious food options and live a more active lifestyle. For the first time, DCP's PMA booth experience will feature artwork from Marvel and Star Wars, representing the entirety of The Walt Disney Company entertainment brands under one umbrella.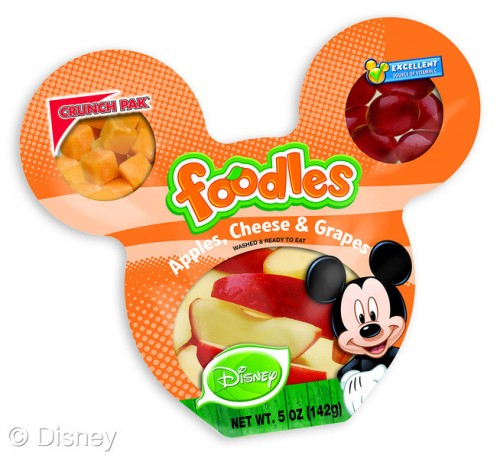 Disney produce to be featured at PMA Fresh Summit include:
Marvel and Crunch Pak (Booth #403) team up for healthy snacking, with Marvel's The Avengers and Spider-Man featured on custom designed packages of fresh sliced apples, shipping in spring 2014.
Monsters University-branded Flavorz by Crunch Pak (Booth #403)are apples infused with blue raspberry flavor for a shockingly refreshing taste. Disney Foodles offer delicious combinations of fruits, vegetables and other sides like dips, raisins, crackers or cheese in a fun, Mickey-shaped tray or Disney Princess carriage tray. Both are available at select grocers nationwide.Read More »

Disney Adds More Branded Healthy Fruit Snack Options