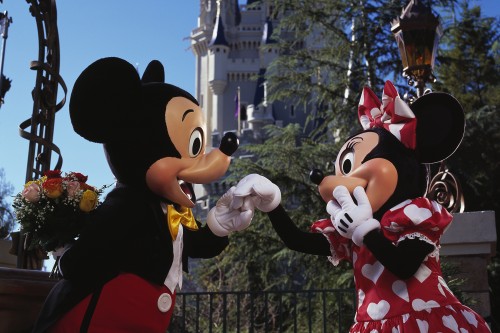 For Disney fans, there's nothing more romantic than a trip for two to the most magical place on earth, Walt Disney World. But what are some of the specific activities you can do together that will make your Valentine's Day, or any day, that much more magical.
With over 40-square miles you have a lot of options, but we've tried to narrow it down to the ten best.
The Couple that 'Spas' Together… – What's more enjoyable than a luxurious spa treatment? Imagine sharing it with that special someone. The new Senses – A Disney Spa at Disney's Grand Floridian Resort or Senses – A Disney Spa at Disney's Saratoga Springs Resort, both feature a "couples room" where guests can enjoy specialized spa treatments – such as massages and facials – with the one they love.
Make like Aladdin and Jasmine – Fly through the sky with your special someone on an adventurous tandem parasail over Bay Lake. Those looking to soar to new heights can spend 10 minutes soaring high above Disney and get a bird's-eye view of Magic Kingdom and its neighboring resorts. Contact Sammy Duvall's Watersports Centre at Disney's Contemporary Resort for reservations for a tandem flight.
Sunset in the Sky – A very different kind of flight is aboard a tethered balloon rising gently into the Florida sky. Located on the waterfront at Downtown Disney, Characters in Flight gives romantics a chance to take their love to new heights. Operating daily,the giant balloon provides breathtaking sights from 400 ft. up in the air with an unparalleled, 360-degree view of the Vacation Kingdom and beyond. Flights take place between 8:30 a.m. and midnight (weather permitting) and last approximately 8-10 minutes. Romantics who time their flight to sunset or fireworks bursting above the parks are in for a special treat. Tickets can be purchased at Downtown Disney West Side; tickets are $12.00 per child and $18.00 per adult.Read More »Top 10 Options for Lovebirds on Valentine's Day at Walt Disney World