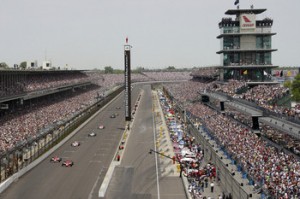 If you were born in the last 50 years, the only Indianapolis 500 broadcast you've ever known has been on ABC. A new deal between IZOD IndyCar series and Disney will ensure that this Memorial Day weekend television tradition will continue. A new six-year rights agreement will keep the Indianapolis 500 on ABC through 2018, extending one of the longest-running relationships between a sporting event and a television network past the half-century mark.
ESPN on ABC will broadcast the 500 Mile Race for the 48th consecutive year on May 27, 2012, and, with the new agreement taking effect in 2013, also will televise the 100th running of "The Greatest Spectacle in Racing" in 2016.
"The Indianapolis 500 and ABC have been together since 1965 and we are very proud to extend the relationship with this new agreement," said George Bodenheimer, president of ESPN and ABC Sports. "The 500 is a uniquely American event and a Memorial Day tradition, and we especially look forward to televising the 100th edition of the race in 2016."
As part of the new agreement, ABC will be the exclusive broadcast network partner for the IZOD IndyCar Series from 2013-2018 and will continue to televise four races each year in addition to the Indianapolis 500. The worldwide presence of the Indianapolis 500 and the series on television will continue as ESPN also has international syndication rights for all IZOD IndyCar Series races.
"IndyCar is very excited about our continued relationship with ABC," said Randy Bernard, CEO, IndyCar. "This allows the series long-term growth on the network. This new contract also helps us expand our presence around the world with ESPN representing our international rights. I want to thank ABC for their strong confidence and commitment in our brand and series. This deal will help our series, team owners, sponsors and fans for the long term with a much more solid foundation."
Read More »ABC and ESPN Sign New Deal with IZOD IndyCar Series, will Host Indianapolis 500 Through 2018