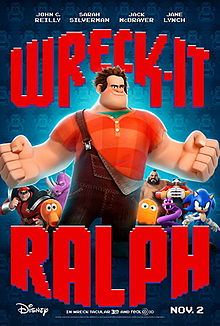 As part of a blogger/press event for Disney's next animated feature I was invited to tour the Disney Animation Building (the one with the hat) and learn about the making of Wreck-It Ralph. And then we made a mess.
This post is a quick overview of our day and a hint of posts to come. It's like the Jacob Marley of Wreck-It Ralph posts.
First, the mess that I mentioned. One of the video games that plays a prominent role in Wreck-It Ralph is called Sugar Rush, in which cute, little racers with cute, little names make their own cute, little race carts and, you can probably see where this is going, race them. We were invited to create our own, and when they put us in front of a long table full of goodies it was every sweet tooth for itself. Please note, no cute, little racers were hurt in the process.
My friend Jim won the contest (and took the picture):