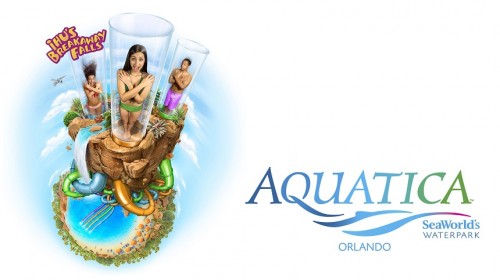 It's not as well themed as Disney's Typhoon Lagoon, but Seaworld Orlando's Aquatica water park has become my favorite destination for the family waterpark experience. They have a great range of water rides and a few unique experiences that make me want to return again and again. With Ihu's Breakaway Falls, Aquatica is adding a new ride high on the thrill spectrum.
Those brave enough to ride will experience a watery free-fall when Ihu's Breakaway Falls – the tallest, steepest and only multi-drop tower slide of its kind in the southern United States – opens on May 9.
At nearly 80 feet tall, Ihu's Breakaway Falls is where thrill seekers face their fears and each other. After stepping into one of three clear "breakaway boxes," they'll watch each other fall one-by-one as the floor underneath them disappears. They'll never know who's going to breakaway first – and the anticipation of who drops next is part of the wild ride!
"With four unique slide paths, Ihu's Breakaway Falls brings a whole new level of thrill to Aquatica Orlando," said Bryan Nadeau, Aquatica Orlando vice president. "Riders can step into three breakaway boxes or test their bravery on a fourth open slide for a different, but just as thrilling experience. No matter which slide you choose, once you get to the top, the only way down is down."
We were able to conduct a quick interview with Nadeau and then took a hard hat tour o the construction site where Nadeau offered a few more details.
Follow below the jump for some Fun Facts about Ihu's Breakaway Falls:
Read More »Ihu's Breakaway Falls to take Aquatica to New Heights and Big Thrills on May 9th