The good news is that spring training for Major League Baseball's Atlanta Braves officially begins at Disney's ESPN Wide World…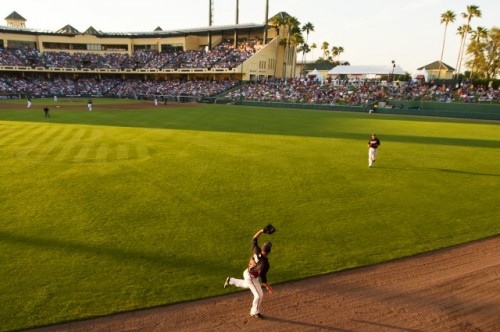 It's an annual tradition for many. Escape the cold winter temps and follow their favorite MLB baseball team to their spring training location. This year the Atlanta Braves Spring Training at ESPN Wide World of Sports Complex will draw a marquee lineup of baseball teams, including the New York Yankees, St. Louis Cardinals, Philadelphia Phillies and Detroit Tigers making this the year to start your tradition if you've ever considered it.
The Braves, who earned a National League Wild Card berth in 2012, report to the complex for two weeks of training in early February, before opening at Champion Stadium on Feb. 22 against Detroit. The late February date marks the earliest start for Braves at Disney since the team arrived in 1997.
A pair of visits by the Yankees, Feb. 23 and March 16 (night game), a March 12 contest versus the Cardinals, and a March 18 game against the Philadelphia Phillies highlight the schedule.