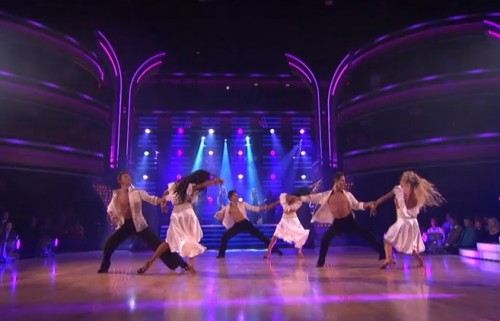 Get your parachute pants on, you guys! It's '80s week at Dancing With the Stars! The Bangles (who still look great) opened the show with a performance of "Eternal Flame" and "Walk Like an Egyptian." I'm pretty sure I performed the same two songs on my parents' coffee table.
Hope and Maks' tango exemplified their love hate relationship as they rocked to Bon Jovi's "Livin' on a Prayer" (yay New Jersey!). Len noted that Hope lacked body strength, but liked the way she attacked the dance. Carrie Ann agreed her lines were awkward, but still sees potential in Hope. Triple 8s gave the pair a total score of 24.
Carson and Anna jived to "Wake Me Up Before You Go Go" by Wham! After rocking leg warmers in rehearsal, they sported cheerleader uniforms, complete with pompom wristbands, on the dance floor. Bruno proclaimed the dance a crowning achievement in madness. Carrie Ann saw little technique, which she doesn't think is okay in week 5. Len wasn't sure the dance was good enough for Carson to make it back next week. As usual, Carson's score of 19 (6, 6, 7) wasn't great, but he remains a huge crowd-pleaser.
Read More »Dancing With the Stars, Week 5 Recap – Where's My Scrunchie?