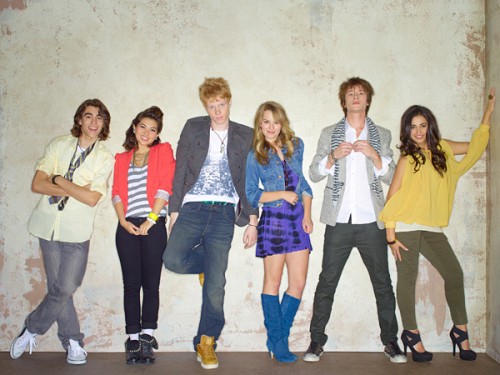 Anyone with a pre-tween or young teen in their house can probably tell you about "Lemonade Mouth," the latest blockbuster from the Disney Channel Original Movie franchise formula. That's because the movie has become the #1 DVR'd movie of the year among kids and tweens, and its soundtrack is on a rocket in the billboard 200. I'm sure Disney is hoping this will be their replacement for the once powerhouse High School Musical series.
The premiere of the music-filled kid, tween and family movie "Lemonade Mouth" gained another 1.5 million Total Viewers via DVR playback (delivering 7.1 million viewers) and is cable TV's biggest L+7 gainer of the year among Kids 6-11 (up 620,000 to 2.96 million) and Tweens 9-14 (up 560,000 to 2.64 million), making it TV's #1 movie of 2011 among those youth demographics and solidifying it as the #1 cable movie in Total Viewers. It was also a family viewing event, 54% of Adults 18-49 who watched the premiere telecast of "Lemonade Mouth" co-viewed with a Kid 6-14.
This week, the "Lemonade Mouth" soundtrack on Walt Disney Records again ranks at #5 on the Billboard 200 and is #1 on the Billboard Soundtrack chart. Radio Disney's Top 30 includes "Lemonade Mouth" songs "Determinate" at #1, "Somebody," "Breakthrough" and "Don't Ya Wish U Were Us?" Strong digital sales continue with the soundtrack currently at #19 on the iTunes Top Albums and #2 on the iTunes Top Soundtrack rankings.
The DVD + Digital Copy, "Lemonade Mouth: Extended Edition," including an additional scene (hinting at the future of the group) and an exclusive music performance of "Livin' on a High Wire," releases in the U.S. on Tuesday, May 24 and in Canada on May 17. In the exclusive scene, Lemonade Mouth, the once average high school students turned chart-topping group, guest on "The Music Scene" and during their interview, heartthrob Charlie reveals he still has a crush on Mohini who in turn inadvertently reveals she is dating Scott, much to her father's astonishment. Olivia also surprises Wen when she tells viewers they are "dating-ish."
More info including upcoming dates for telecasts of "Lemonade Mouth" on Disney Channel are below the jump:
Read More »Disney Channel's "Lemonade Mouth" Rules the Charts