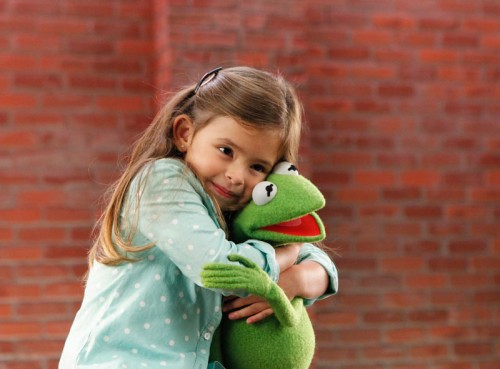 For too long and no good reason, the Muppets have been banished from TV. Sure, there was the horrible Disney Channel Teen Stars experiment, but we're trying to forget that in the hopes our patience will one day be rewarded. It's too soon to say that time has come, but at least we get new Muppet shorts, or as Disney calls them "Muppet Moments."
Kermit the Frog, Miss Piggy, Fozzie Bear and other beloved Muppets star in Disney Junior's "Muppet Moments," a new short-form series of amusing conversations between Muppets and young kids about everyday topics including "apologies," "favorite foods" and "manners." The series will debut on Disney Channel with four shorts premiering Friday, April 3 (8:25 a.m., 8:55 a.m., 9:25 a.m. and 9:55 a.m., ET/PT) and a new short airing daily through Friday, May 8. New shorts will continue to rollout throughout 2015.
Nancy Kanter, Executive Vice President, Original Programming and General Manager, Disney Junior Worldwide said, "The Muppets have been a part of nearly every family's life and we are delighted to bring back fond memories of these iconic characters for parents and create new ones for the youngest members of the family. 'Muppet Moments' highlight the Muppets doing what they do best — making kids and families laugh, while showcasing compassion and heart. Our hope is that viewers will come away seeing how funny and special the Muppets really are."
I like that plan. Introduce the Muppets to a new generation so we all can get to see more of them.